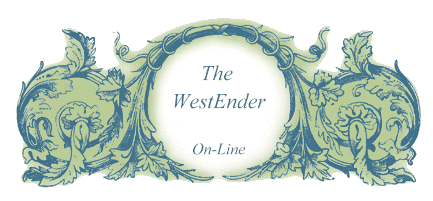 September 1999
---
MINUTES FROM THE AUGUST MEETING
These minutes are short as we were on vacation during this meeting. Most of the discussions centered around the final push for the West End Community Fund Campaign.
WEST END NOTES
The "4th Street Filling Station" formerly known as Shobers is open for business. I walked by on Friday and things look great! Look for a review in the October issue.
A West End Thanks to Laura and Allan Burrows and Sidney and Dan Falken for hosting the August 21st block party in West End "East". About 35 people turned out, some were new residents to the West End. Also, thanks to all who've attended a West End Block party recently - it is a chance to get to know your neighbors and see up close the signs and designs we have for neighborhood improvements through our West End Community Fund. There are TWO more block parties to go - rescheduled from August. One for West End North on September 18 from 5:00 to 7:00 pm, the other TBA for West End Central (South). Most remaining individual homes will be getting invites as our hosts get their plans together. We will NOT have a neighborhood-wide party in Grace Court on September 6 as said here last month - tentative plans now have it for Sunday, September 26. Call Lisa Elam at 724-5282 if you'd like to help plan this event.
From the Winston-Salem Events Staff: Plans are in the works for another Burke Street Bash coming on September 18. The format will be a little different,providing opportunities to hear several different bands on one night. It's going to be tons of fun, so don't miss it. We should have some interesting and yummy food vendors on site, too, including a booth from the new Cajun place that's opened up on Trade Street.
CERTIFICATE OF APPROPRIATENESS APPLICATIONS - September 1, 1999
West End Historic Overlay District
Jack and Susan Campbell, applicants
Smith Wimbish Blair House
1208 Brookstown Avenue
Partial Enclosure of Rear Porch
Kilpatrick Stockton, LLP, applicant
Outbuilding, Hanes Hill House (former)
1001 West Fourth Street
Alterations to the Carriage House to include the Installation of Shutters and an Entrance Canopy on the Front Elevation of the Structure
West End Association, applicant
Grace Court Park
Addition of a Post Clock, Retaining Wall, and Landscaping
Baldwin Property Management, applicant
Shepherd Freeman Duplex at 735 737 West End Boulevard; Veach Glenn House at 1401 Brookstown Avenue; House at 511 Jersey Avenue; Crestland Apartments at 1206 West Fourth Street; and apartment buildings at 624 West End Boulevard, 1120 West End Boulevard, and 1415 Clover Street
Installation of Signage
NEXT MEETING: October 06, 1999 - 5:30 P.M. BOARD OF ALDERMEN CHAMBERS, SECOND FLOOR - CITY HALL
The following is a list of the Certificate of Appropriateness applications for West End reviewed by the Winston-Salem Historic Commission last month (August 04, 1999). The Commission's vote on each application is shown in italics.
West End Historic Overlay District
Amanda and David Zimmerman, applicants
House
1406 Jarvis Street
Alterations/Repairs to Rear Sunroom and Extension of Rear Deck
Approved as Submitted