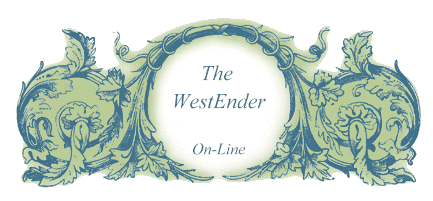 November 1998
---
NOTES FROM OCTOBER MEETING

Twenty-three people attended the October meeting. One officer from the Winston-Salem police department also attended.
The next West End Association meeting will be on Tuesday, November 3rd 1998, at Billye Keith Jones home at 614 West End Blvd. from 7:00 to 8:45. Everyone is invited to attend.
The tree planting for the Burke Street business district will commence in the next couple of months. Once again, congratulations and thanks to all who helped make this project possible!
The Historic Signage Committee is considering the design to the right for distinctive street signs. The actual sign is aluminum and will be approximately 1 « feet by 2 « feet in size and attached to a 6 - 7 ft. high post. Smaller signs made of bronze are proposed for the homes. We voted to fund the manufacture of a prototype sign for evaluation.
The City Transportation Department has completed their study of the parking problems in the Summit Street area. The number of nonresidents parking vs. the number of available spaces was well within the guidelines for considering the area for permit parking.
Most of the meeting centered on discussion of the proposed aquatic center the YMCA is planning to build in West End. Jim Vaughan and Lisa Elam met with YMCA Director Brian Cormier to get information on what exactly the "Y" is proposing and presented their findings. The YMCA feels that a location downtown would be difficult to staff and cost-prohibitive. They feel that the membership from Central YMCA location will help support the Aquatic Center and that members from the other branches will also benefit from the West End location. Many West Enders expressed concern over the proposed closing of Sunset for additional parking. Lisa noted that the YMCA is in the very early stages of getting permits, approvals, and has not met with the Historic District Commission. We decided to have Mr. Cormier come to a meeting (TBA) and give us a presentation on the details their plans.

WEST END HAPPENINGS

The Wachovia/YMCA 8k Road Race will be Saturday, November 21 from 9 til 10:30 AM. We need 6-8 people to man in shifts a water station sponsored by the West End that morning at Grace Court. Contact Eric Elliott at 727-9857 if you can help.


From A Reader
On a recent walk, I noticed that the elevated portion of the new Hawthorne Curve on I-40 will be much higher than the old version by at least 20 feet. This will project noise much farther than the old version and further blight the south side of the West End just when it is recovering from the original nasty experiment in early freeway design that is I-40. Now it's called I-40 Business, but by whatever name it was a big mistake that we have to compound by spending much more money to update than it cost to build. However, at least they could build some barriers to try to reduce the noise and visual impact on our area. Since this is not a renovation, but rebuilding on a grander scale, it seems that residents should have been consulted in what is actually the construction of a new freeway. Was anyone in the West End contacted? Does anyone have a clue what the plan is? Is there a sound abatement plan? I suggest the West End Association get on this quickly by contacting the NC DOT to find out what is being planned for the new addition to our neighborhood's best feature. There is plenty of room for some very extensive barriers to the north side of the new Hawthorne Curve- where the old one currently sits. It would be the first thing about that freeway that makes any sense

From Robbie King - Historic District Commission
We received word of a company called Address America making a blanket sweep of the 27101 area and offering for sale/installation standardized address markers with reflective numbers. I have contacted the company and informed them that the Commission must take a look at the situation before they would be safe to proceed with marketing their product in West End. Michelle Hope with the company was very pleasant to work with and is sending a sample sign to our office for the Commission's review during the meeting next week. The ''guidelines" may allow for signs such as these as long as they are 144 inches or smaller without need for a COA. However, because of the highly reflective nature of the signs, they may need to apply for a COA before any can be installed. The Commission will review this at the next meeting. The Commission is not advocating that signs of this nature are not important or that they will be disallowed. The review will be based on how the signs satisfy the guidelines.

Senator John Glenn (Ohio) is on the Space Shuttle Discovery. At 77 years old, he is the oldest astronaut to ever orbit the Earth. In May, West End resident James McCormick had the honor of meeting Senator Glenn at a meeting of the World Federation of Neurology in Washington DC. Dr. McCormick is the Program Chairman of this group.

The City/County Utilities Division and Keep Winston-Salem Beautiful are sponsoring EnviroFair '98. The event will be held Saturday, Nov. 7 from 8 a.m. - 3 p.m. at the fairgrounds midway. You should enter off University Parkway onto Deacon Blvd. and enter the midway of the fairgrounds at gate 5. All residents of Winston-Salem and Forsyth County are encouraged to clean out basements, garages and attics. You should look for any household material that is poisonous, ignitable, explosive or corrosive such as metal polish, oven cleaners, rug shampoos, bug sprays, antifreeze, batteries, and car-care products. Each vehicle will be limited to disposing of five gallons each of non-latex paint or motor oil. Recycling trucks will be available to collect glass bottles and jars, aluminum cans, steel cans, plastic soda bottles and milk jugs, newspaper, magazines, telephones books, cardboard and styrofoam packing peanuts. For additional information call City/County Utilities, 727-8418.

CrimeTIP Information Line 607-7260

The Citizen Budget Advisory Council will hold the second of 2 public meetings on November 17, 1998 at 7:00 PM at City Hall, 101 N. Main St. Topics such as: City Fees, Public Facilities, Trash Collection and Property Taxes will be discussed. After these meetings, the Council will make recommendations to the Mayor, Board of Aldermen and City Manager about priorities for next year's budget. For more information, call 727-2639

WEST END HOLIDAY HOME TOUR
Sunday, December 6, 1998 - 12:00 PM to 5:00 PM
Advance Tickets: $8 Day of: $10 For information call: 722-3930

Advance tickets available at: The Corner Antiques (749 Summit St.), Creative Heart Gallery (207 W 6th St), Extraordinary Goods (1000 Brookstown Ave.), G. Carlyle Salon (119 Reynolda Village), The Horse's Mouth (424 W. 4th St.), Ollies's Bakery, Possibilities (157 S. Stratford Rd.), Snob Consignments (465 West End Blvd), West End Caf' (926 W 4th St.), West End Smoothies (1003 Brookstown Ave.), West End Video (434 West End Blvd), Woodhill Exclusives Ltd. (1148 Burke St).
This year's Holiday Home Tour features some wonderful examples of renovation and restoration. Several of the homes have seen major changes over the course of the century, going from single family homes to duplexes, boarding houses or apartments and back to single family homes again in the last 20 years. Volunteers are still needed to decorate the day/week before and to staff the houses the day of. The next committee meeting is November 10 at 7:00 PM. Call 722-9804 to volunteer.
The Luther L. Campbell House - ca. 1921
Anne & Kerry MacLeod, 634 N. Spring St.
This spacious, five bedroom, five bath boldly-detailed Colonial Revival was divided into apartments in the 1940's, and restored to single family home in the 1970's.
The Fletcher-Blackwell House - ca. 1915
Jackie & Tom Pittman, 640 Summit St.
This Colonial Revival dwelling is typical of many of those built in the 1910s and 1920s, including some of those in the West End. According to a neighbor, a lock was added to the corner chest in the guest bedroom to create a liquor cabinet after the maid & butler got into the liquor one-too-many times.
The William H. McGehee House - ca 1915
Gray & Terry Walts, 715 Summit St.
This combination of the Craftsman and Colonial Revival styles is located on an imposing terraced lot on the Summit St. hill. During the depression, the house was converted into a duplex in order to keep the property. In the 80's, the house was renovated back into a single family home.
The Charles S. Noble House - ca 1923
Brad Beach & Mike DeWitt, 714 Manly St.
This house served as a boarding house from 1944-1974 and was reconverted into a single family home in the 70's.
West Ender Apartments - ca 1030's - 1940's
Kathleen & James Ramick, 1312 Glade St.
Formerly the Mayflower apartments, the West Ender is said to be one of the oldest apartment buildings in Winston-Salem.
The Robert E. Follin House - ca 1913
Polly & Douglas Pugh, 1232 Glade St.
This eclectic house reflects the combined influences of the Craftsman, Colonial Revival, and English Cottage styles. A photograph of the house in the 1924 publication Art Work of Piedmont Section of North Carolina shows that it has changed little since then.
The Plumly-Hanes House - ca 1921
Missie & Jim Vaughan, 814 West End Blvd.
The Plumly-Hanes House is a well-detailed Colonial Revival dwelling impressively situated above West End Bvd. with a terraced front lawn, a stone retaining wall, and a double flight of central steps.
The Lott-Woodall House (The Butterfly House) - ca 1920
Nina Dorman & Ted Rice, 1012 West End Blvd.
Known as the "Butterfly House," this unusually-shaped Dutch Colonial Revival home stood empty for several years until purchased by Stack, Sewell & Kenniban in 1996. Tour visitors that year would have seen the house in the midst of major renovations. This year, the new owners have graciously invited visitors to return to see the wonderful end result.

WEST END RESIDENT SPOTLIGHT - Jacqueline Dorminy - "The Last 40 Years"
After World War II, Dorminy Studios was received a grant for reimbursement by the Federal government for dance and drama classes for veterans. Many vets wanted to try their hand in radio announcing and needed voice lessons. Dorminy Studios teaching reputation grew and soon they expanded in location and scope. She soon started a preschool and Kindergarten program, which for several years, expanded to 1st thru 4th grades. Miss Dorminy has seen many changes in dance in her 92 years of life. "A lot of dance teachers left New York in the late 50's, went to the West Coast and the Southeast to teach," she says. Dorminy Studios here in Winston attracts some of the best teachers and students in dance. Her annual Homecoming Dance Convention and Competition, which takes place during Thanksgiving weekend, draws over a 1,000 instructors and dancers from all over the United States and Europe. This year's event is canceled due to the renovations at the Adams Mark Hotel. Recently, a family visited her studio. There were three generations of women in this family who had studied dance under Miss Dorminy and wanted to start the fourth generation in dance classes. Now that is longevity! She is still very active in daily operations of her studio.

THE WEST ENDER
Published by the West End Association
P.O. Box 10055 Salem Station
Winston-Salem, NC 27108
http://www.slkp.com/westend/

Editors: Mike & Helene Tyson 722-9804
powermt@lycosmail.com
hcannon&ibm.net
Business Mgr.: Nikc Kefal 725-9209
Circulation: David Elam 724-5282

CERTIFICATE OF APPROPRIATENESS APPLICATIONS

1228 GLADE STREET - proposed work (continued from 10/07/98): CONSTRUCTION OF A THREE STORY ADDITION ON THE REAR OF THE STRUCTURE

1310 FORSYTH STREET - proposed work (continued from 9/2/98): SITE ALTERATIONS & LANDSCAPING

1216 BROOKSTOWN AVENUE - proposed work: REPLACEMENT OF EXISTING CONCRETE FRONT ENTRANCE WALK WITH NEW BRICK ENTRANCE WALK

1508-1510 JARVIS STREET - proposed work: MISCELLANEOUS EXTERIOR ALTERATIONS AND REPAIRS

922 WEST END BOULEVARD - proposed work: RENEWAL OF PREVIOUS COA FOR WORK ON ROOF AND FRONT PORCH AND CONSTRUCTION OF A SET OF MASONRY FRONT PORCH STEPS TO APPROXIMATE THE ORIGINAL STEPS AND CONSTRUCTION OF CARPORT STRUCTURE IN REAR OF PROPERTY

926 WEST END BOULEVARD - proposed work: CONSTRUCTION OF CARPORT STRUCTURE IN REAR OF PROPERTY

914 WEST END BOULEVARD - proposed work: CONSTRUCTION OF CARPORT STRUCTURE IN REAR OF PROPERTY

135 PIEDMONT AVENUE - proposed work: REAR ROOF ALTERATIONS AND REPAIRS

150 PIEDMONT AVENUE - proposed work: CONSTRUCTION OF A SCREENED PORCH ADDITION TO THE REAR OF THE STRUCTURE

633 JERSEY AVENUE - proposed work: REPLACEMENT OF EXISTING DECK WITH A SCREENED PORCH ADDITION AND DECK ON THE REAR OF THE STRUCTURE

718 MANLY STREET - proposed work: CONSTRUCTION OF A WOOD PICKET FENCE TO ENCLOSE THE REAR YARD AND REPLACEMENT OF THE EXISTING CONCRETE ENTRANCE WALKWAY AND WOODEN STEPS WITH A BRICK WALKWAY AND STEPS


The next meeting of the Winston-Salem Historic District Commision will be held on Wednesday, November 4, 1998 at 5:00 pm in the Board of Alderman chambers, second floor of City Hall, 101 North Main street. For additional information contact L. Robbie King or LeAnn Pegram at the City-County Planning Board, 727-2087.